Irregular Ceramic Dinner Plates Set of 4, Blue Salad Pasta Plates for Kitchen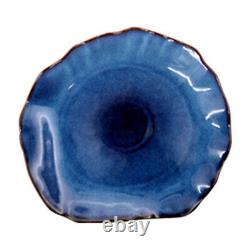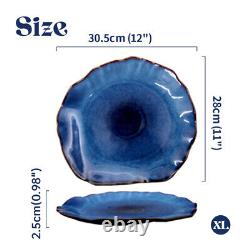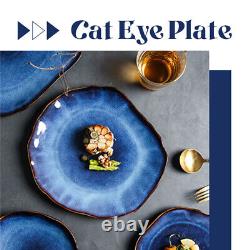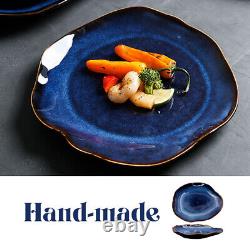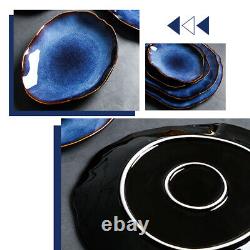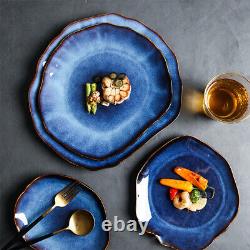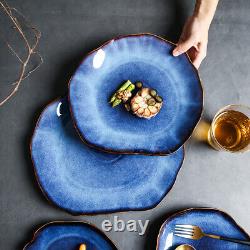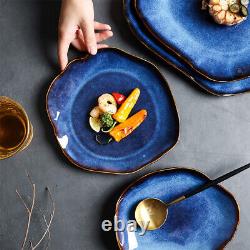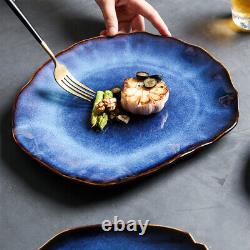 Unique Design: The irregular design and the unique gradient color make the dinner plates appeal to the eye. These colorful and stylish dinner plates look fantastic on the table and the gradient color adds a stylistic feel and brightens up your home. Practical Size: The 10.2-inch large dinner plate are perfect for dinner, brunch, bread, steak, seafood, appetizers, salad, side dish, fruit, pasta and wide enough for any sauce liquid to stay in the plates, they have a wide design that allows for larger, creative portions. Also, they could be used as a dinner plate with room to slice through with a knife.
Durability and Safe: These ceramic dinner plates are made of durable high-fired porcelain, which offers reliable strength and durability, the texture of the plate is smooth and anti-scratch, Cadmium and Lead-free, Non-toxic. The eco-friendly ceramic is 100% BPA-free and odorless. No plastics and harmful chemical materials, very healthy ceramic serving plates for you and your family. And, microwave and dishwasher safe. Smooth, Anti-Slip, Scratch-Resistant: The glazed sections of plates are waxy smooth and show very little to no blemishes. Moreover, the unglazed base has sanding, which is non-slip and will not cause the plates to scratch each other when stacked. Well-Packaged and Ideal Gift Choice: The plates are carefully packaged, the plates surrounded on all 4 sides by a padding material. Hope that the plates come to you in perfect condition. A practical gift for your friends and family on Housewarming, Anniversary Dates, Wedding parties, Mothers' Day, Fathers' Day, Christmas, and New Year's Day. It is a dinner plate and also can be a home ornament. Set of 4 Ceramic Dinner Plates.

---