Oregon Chinese Porcelain T. J. & J Mayer, Longport 18 Flow Blue Serving Platter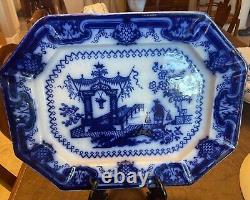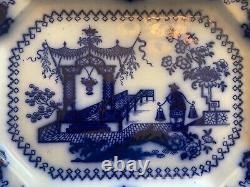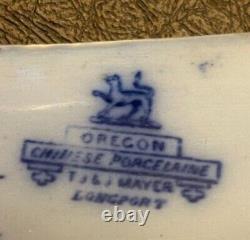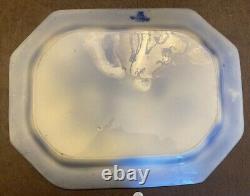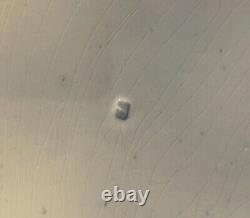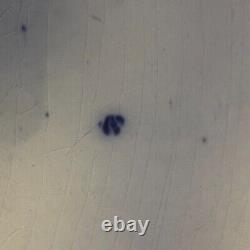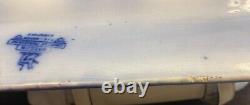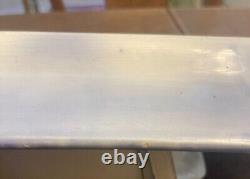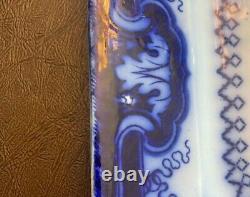 A BEAUTIFUL AND RARE OREGON CHINESE PORCELAIN T. J & J MAYER LONGPORT FLOW BLUE SERVING PLATTER. IT IS A CHINESE STYLE DECORATION. PLATTER MEASURES APPROXIMATELY 17 3/4 INCHES LONG AND 13 3/4 INCHES WIDE.
BACK SIDE HAS TWO SMALL STAMPS AND HAS BLUE "OREGON CHINESE PORCELAIN" LOGO. PLATTER IS AN ANTIQUE ITEM IN USED CONDITION WITH A COUPLE OF MINOR SIGNS OF WEAR AND AGE ON THE RIM. THE GLAZE HAS SOME VISABLE CRAZING ON BOTH SIDES. THERE ARE SOME MINOR CHIPS TO THE EDGES. A flow blue transfer printed whiteware platter.. The underside of the platter bears a maker's mark with a lion supplanting OREGON/ CHINESE PORCELAINE/ TJ & J MAYER/LONGPORT.
Mayer of Longport, Burslem, Staffordshire likely created this "Oregon" design between 1842 and 1855. The name perhaps refers to the state of Oregon, which was settled in 1838 and later admitted to the Union in 1859. However, the Chinoiserie design bears little connection to its namesake, instead depicting a raised walkway, tree, pagoda, and lantern-holding figure.
The twelve-sided rim sports a marly design with a non-continuous repeating leaf and scroll motif. Kiln stilt impressions left from the manufacturing process are visible on the underside of the plate. It also shows an impression of the letters "FB" and a second illegible impression that perhaps shows an unknown symbol or two additional letters.
The center of the plate's surface also displays possible signs of use with knife marks seen across the central design. GREAT LOOKING FLOW BLUE ANTIQUE PLATTER. FEEL FREE TO CONTACT WITH ANY QUESTIONS, I TRY TO PROVIDE DETAILED PICS AND DESCRIPTION.
CHECK OUT MY OTHER VINTAGE AND ANTIQUE LISTINGS.

---