Set Of 4 Big Salad Dessert Plates Blue Carnation-garofano-faenza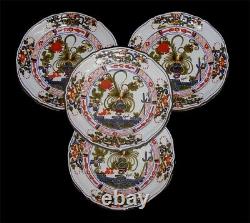 It is completely made and painted by hand on one of the oldest and greatest studio on RIVIERA ROMAGNOLA in Italy by Roberto under the contious supervison of Maestro Bruno. When I say made by hand I mean that each piece is not just hand painted but it is individually hand crafted.
They are new item, in mint conditions - no chips, cracks or crazing, the white MARK ARE DO TO THE CAMERA FLASH. Lodi, Milano but especially Faenza developed this design showing a rapresentation of a Japanese garden, gracefully painted on a creamy blue background. Each plate measures 8,8'' (22 cm). This, at the moment, is the only way to guarantee that it is really made in Italy and not somewhere else. My pieces, of course, are all hand signed under glaze by the artist. For more than 50 years my family has offered the finest Italian Hand Painted Renessaince Pottery, with a great worldwide service. If you want a detailed description of the making of majolica, please contact me and I will be happy to share with you this wonderful experience.

---